Bioengineering Researcher
NeuroMarketing

Ing. Enrica Modica got his Bachelor Degree in Clinical Engineering and the Master Degree in Biomedical Engineering, respectively in 2012 and 2015, at the University of Rome Sapienza.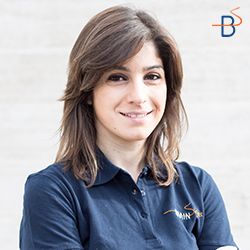 She is currently attending the PhD School in Morphogenesis and Tissue Engineering, Biophysics curriculum, at the Anatomical, Histological, Forensic & Orthopedic Sciences Department of the University of Rome Sapienza.
Her main research activity, on behalf of BrainSigns, is focused on the acquisition and analysis of biosignals (Electroencephalogram, Heart Rate, Galvanic Skin Response, Eye-Tracking), with the aim to investigate the cognitive phenomena, related to the attention, and emotional. She collaborated in the research field of Neuromarketing, where the change is related to these signals with the cognitive and emotional processes evoked by external stimuli.
At the same time, she developed expertise in the field of Web Usability based on the detection of physiological responses during user interaction with the Web sites, the technique eyetracking and use of specific software for the study of the Usability. Combined use of these techniques, it has allow us to identify usability problems while browsing the web pages of two major telecommunications companies.
She is currently collaborating on the European Project "Smoke Free Brain", with the aim to improve the efficacy of public prevention measures against smoking aimed to determine a series of actions to promote the efficacy of the antismoking campaigns in EU and worldwide.