Bioengineering Researcher
Human Factors

Pietro Aricò got the Master Degree in Biomedical Engineering at the University of Rome "Sapienza" and the PhD in Bioengineering at the University of Bologna "Alma Mater Studiorum".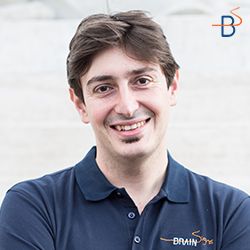 He is co-author of 18 scientific articles in peer-reviewed international journals, 1 patent and more than 40 scientific contributions in peer-reviewed national and international conferences. Dr. Aricò is Associate Editor of the international scientific journal "Computational Intelligence and Neuroscience", and reviewer of several international journals.
His expertise is focused on the analysis of biosignals (e.g. Electroencephalogram-EEG, Electrocardiogram-ECG), with particular knowledge of several signal processing and machine learning techniques (e.g. Wavelet analysis, classifiers). In particular, his research has been focused on the integration of the technologies used in the Brain Computer Interface (BCI) field by analyzing particular components of the subject's EEG signal (Event Related Potential P300; EEG rhythms) in order to associate them with the user' mental states, in particular the attention levels and the mental workload.
Also, Ing. Pietro Aricò has a great expertise in programming online interfaces developed in Matlab environment, which allow the acquisition, processing of more biosignals and actuation of devices.
He was also involved in several international projects, such as "TOBI - Tools for Brain-Computer Interaction" (Integrated Project) and "SM4All - Smart hoMes for All" (STREP), funded by the European Commission on the 7th framework and the project "NINA - Neurometrics INdicators for ATM", founded by SESAR JU. In the 2014. He was awarded by the prize "I Guidoniani" for the best research in the aerospace medicine during the Italian conference of Aeronautic and Aerospace Medicine.