Bioengineering Researcher
Human Factors/NeuroMarketing

Ing. Gianluca Di Flumeri got his Master degree in Biomedical Engineering in 2014, and his Ph.D. degree cum laude in Morphogenesis and Tissue Engineering (Biophysics curriculum) in 2018, both at Sapienza University of Rome, the latter spending a 3-months-period at Institut Supérieur de l'Aéronautique et de l'Espace (ISAE SUPAERO) in Toulouse.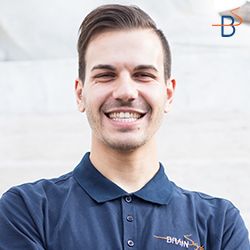 He is currently a Research Fellow at the Department of Molecular Medicine of Sapienza University itself, under the direction of prof. Babiloni.
His main research activity, on behalf of BrainSigns, is focused on acquisition and analysis of human biosignals (Electroencephalogram, Electrocardiogram, Galvanic Skin Response, Eye-Tracking), with the aim of investigating neurophysiological correlations with human cognitive phenomena.
The result is the development of neurometrics of specific and relevant mental states, such as mental workload, vigilance, stress, and so on. He is particularly involved in using such a kind of neurometrics for Human Factor evaluation in operational environments (aviation, automotive, robot-assisted surgery), as well as in Neuromarketing field, for the evaluation of cognitive, emotional and motivational processes evoked by external stimuli. Also, he has a great expertise in designing and programming Graphical User Interfaces (GUIs), developed in Matlab environment, in order to support the operators simplifying and optimizing the biosignals acquisition and processing phases. He contributed actively in several National and International research programs.

The results of his research have been disseminated during several International Conferences of Bioengineering, and published on dozens of papers on peer-reviewed journals, on books and with one patent (please click here for further information). Also, he has been awarded by the Italian Sensory Science Society (SISS) with the "Young Researchers 2014" award, by the Italian Society of Aerospace Medicine (AIMAS) with the "I Guidoniani 2015" award, and by Fondazione Sapienza in 2017 with the "Premio Minerva" recognizing the forefront and the scientific relevance of his research activity.