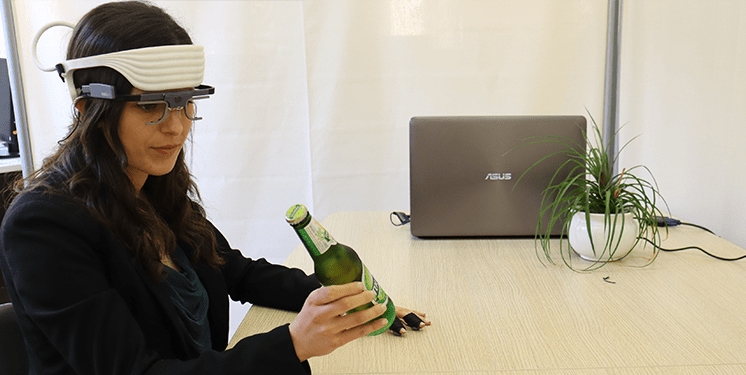 Customer Experience - NeuroMarketing
By neuromarketing testing tools we can measure unconscious reactions that people experience during their visit to a store, either while they are consuming products or just looking at products on the shelves.
Fast Navigation
BrainSigns' methods, knowledge and testing experience, underly the innovative tests for Customer Experience, focusing on the effect of spaces and products on consumer perception that highly affect the purchase decision process. This implies investigating the instinctive physiological reactions of consumers moving in a real context, during their experience.
Measuring physiological reactions with these innovative indicators is extremely performant as advanced knowledge in neuroscience has demonstrated that instinctive unconscious processes are key drivers in the motivation of human behavior but are difficult to reveal in verbal interviews as most of them are unconscious.
BrainSigns' expertise in this field has been developed in some of the more well known Museums thanks to many scientific articles in the neuro-aesthetic field and with pilots studies conducted with the use of neuroscientific tools and techniques and realized on behalf of private companies related to the analysis of the consumer shopping experience and to the analysis of consumer interaction with product/packaging.
How We Work
Technologies involved are the following:
People in the target area are equipped with sensors and monitored during a shopping experience along a defined or a free path. During the experimental task generally some positions are pre-defined whilst others totally left free. At the end of the shopping/space exploration a psychological expert has a final interview with the testee immediately or later, as required by the study.
Better knowledge of such perceptions provides interesting insights in order to better refine products and packaging, to improve the cordiality perceived in retail expositions, to optimize product related elements(packages, shapes, colors, materials, position). It is also possible to study space perceptions, in terms of light effects, colors, or furniture position, to improve ergonomics and positive emotions perceived during the shopping experience.
What you will get:
Discover if the change of product position affects consumer interest
Understand which packages elicit positive emotions
Discover if new products draw higher attention of the previous ones
Discover which product elements generate confusion or are negatively perceived
Discover which In-store ad draws higher visual attention
Understand how to improve store layout and design to increse sales
Find out how to attract, engage, and motivate the customer towards making a purchase
Understand how specific atmospheric elements affect consumer experience (lighting, music, scent, colour)
Questions that could be answered:
Where is the customer attention mainly focussed during a retail visit?
Which elements or situation in a retail exposition may elicit positive/negative emotions?
Where or when does the customer perceived confusion?
May some change in the product or in its packaging elicit additional positive emotions?
Measuring instinctive reaction in real context by the use of neuroscientific tools and techniques represents an innovative way for creating a successful marketing strategy and improving product selling effectiveness.