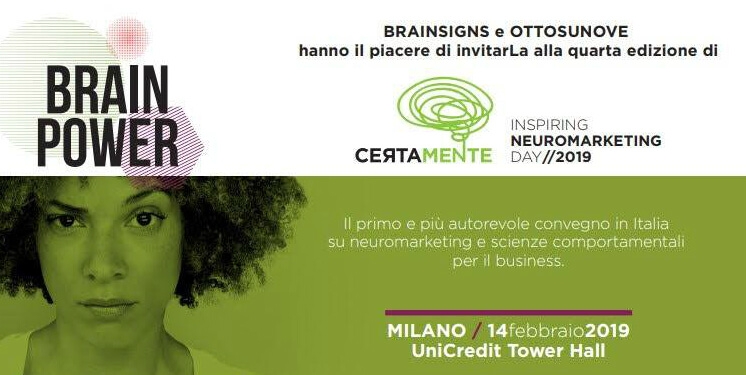 Everything is ready for Certamente 2019 and the program is full of innovative contents.
This year the most important event about Neuromarketing in Italy will be held in one day on the 14th of February in Milan and there will be plenary sessions, thematic sessions and a closing debate.
Fabio Babiloni, professor of the Sapienza University of Rome and scientific director of BrainSigns will open the event, focusing on the knowledge of the most applied neuroscience techniques in the area of Neuromarketing and behavioural sciences.
Subsequently Barbara Monteleone (Ottosunove) will moderate a round table together with four international speakers, Elissa Moses (Ipsos USA), Jessica Southard (Mars Inc.), Carolyn Yoon (University of Michigan) and Colin Strong (Ipsos UK). They will discuss on the benefits of Neuromarketing through the description of concrete cases.
Paolo Teoducci (Startupitalia) will illustrate the world's successful start-ups in the Neuromarketing area.
In the afternoon there will be a new format for Certamente: three thematic sessions in parallel about concrete business cases will be dedicated to branding, retail and product.
The Segafredo case and the National Trust case will be about branding. In the Product session, we will discuss how to increase the effectiveness of packaging in order to make it visible among many products, and how to increase the impact of hearing in the food industry, through the Amorim case.
In the session dedicated to the Retali the case Agroter and the case Electrolux will be presented, with particular attention to the role of people's emotional and sensory experience in stores.
Daniele Manca, Deputy Director of Corriere della Sera, will close the conference together with Matteo Motterlini, Philosopher, Economist and Professor. They will talk about the benefits of adopting Neuromarketing for companies.
As always, the conference will be a good opportunity to collect new ideas to be put into practice in the real life company environment.
Read more...