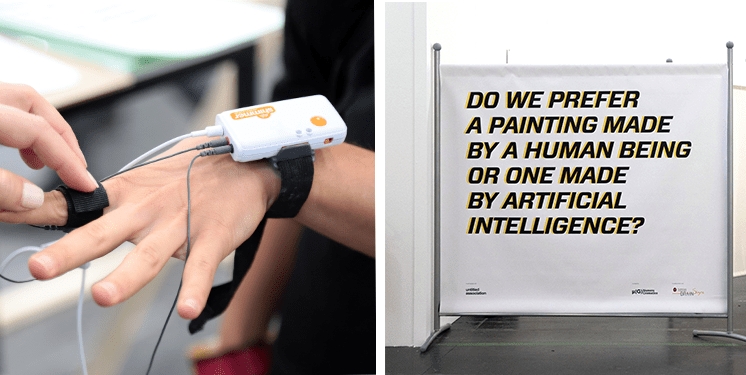 The results of a neuroaesthetic study conducted at the ArtVerona art fair have been published, the result of a collaboration between BrainSigns, in particular Prof. Fabio Babiloni and Dr. Giulia Cartocci, and the collective of artists and researchers Numero Cromatico, especially involving Dr. Dionigi Mattia Gagliardi, Dr. Salvatore Gaetano Chiarella and Dr. Giulia Torromino. The aim of the research was to investigate the effect of knowledge that a work was created by a human artist rather than an Artificial Intelligence (AI) in an ecological context.
In fact, ArtVerona involved 25000 visitors, of which about 3000 visited the studio stand and 150 visitors took part in the research. Two unpublished abstract paintings were used (D.M. Gagliardi 2015), declaring them to the participants alternatively as produced by "human" or "AI".
Participants who saw both paintings declared as less pleasant the painting whose author was believed to be AI after seeing the one believed to be produced by humans. This showed that we are in fact influenced by the author's knowledge of a work, and that our judgement is more negative for works that we think are the product of an AI. This is an important fact in light of the rise of creative and intelligent technologies, many of which are capable of producing original artworks. The interdisciplinary approach between art and neuroscience, therefore, can not only provide new keys to understanding the concept of authorship, but also open new scenarios on the creation and use of artwork.
The study, partly supported by the Great University Project 2021 'The artificial intelligence and us: how we react, how we can live together' obtained by Prof. Fabio Babiloni and colleagues, is the result of the first collaboration between BrainSigns and Numero Cromatico.
The two groups are carrying out further research, including a study within the SUPERSTIMOLO exhibition of Numero Cromatico at the MAXXI Museum in Rome, where it was also possible to consider brain reaction using the Mindtooth system, developed with EU funds and already used recently in the NeuroDante project, led by Prof. Fabio Babiloni's team with manager Dr. Cartocci.
To learn more about the article, you can read and download it on the website of the Computers in Human Behavior magazine.
Read more...