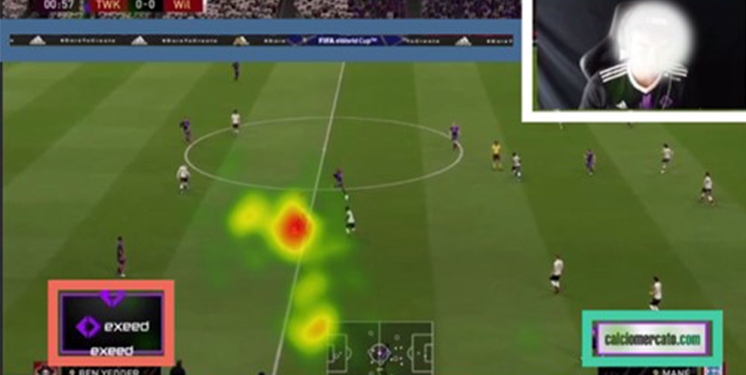 A study focused on the application of the Eye-Tracking technique in the Esports sector shed more light on how users pay attention to In-Game Advertising (IGA).
In particular, the eye movements of 47 male participants have been recorded during the observation of a FIFA20 match on Twitch, leading to the following findings:
In-Game Advertising (IGA) has the potential to grab 3.49% of viewers' attention
Despite the streamer's face being a well-known attentional driver, users' eyes tend to focus more on the chat box that captures a high level of visual attention (10.68%)
In terms of visual attention, animated ads perform better than static ones (1.46% vs. 1.12%)
Higher attention toward the ads has been found in scenes that included goal scoring (0.69%) in comparison to scenes where no goals were scored (0.51%).
Regarding the digital billboards, the paper revealed the attentional power of this type of advertising space, that was never explored before, paving the way for several managerial implications and the development of new advertising pricing strategies.
The research, conducted by the BrainSigns Team in collaboration with Prof. Luca Petruzzellis and Dr. Michele Cimini (UNIBA), has been published in the journal Brain Sciences on 4 October 2022. The project manager of the research, Dr. Marco Mancini (Head of Neuromarketing Lab at BrainSigns), stated: "In a context (Esports) that still lacks evidence on how online users perceive advertisements, the investigation of the distribution of the visual attention during the game viewing experience represents a valuable opportunity for managers, advertisers, and researchers".
Cite
Mancini, M.; Cherubino, P.; Cartocci, G.; Martinez, A.; Di Flumeri, G.; Petruzzellis, L.; Cimini, M.; Aricò, P.; Trettel, A.; Babiloni, F. Esports and Visual Attention: Evaluating In-Game Advertising through Eye-Tracking during the Game Viewing Experience. Brain Sci. 2022, 12, 1345. https://doi.org/10.3390/brainsci12101345
Read more...